Learn about who we are, what we do, and the clients we've helped.
In the words of founder/CEO, "I saw a need in the industry for better customer service. People had questions, [that] I had found the answers to (through my own trial and errors) as well as questions I had not yet encountered. I was eager to learn and share. I wanted them to know, "We've been there. We get it. We care." I knew that if I helped other businesses get bigger and better, I would as well."
Optimal Station saw the need for customization in the automatic retail world. Having come from both manufacturer and operator worlds, we heard the same issues and complaints repeatedly. Owners were trying (often unsuccessfully) to piece together the necessary components to create functional, efficient, and profitable automated retail systems. We saw companies go out of business unnecessarily when they couldn't put all the pieces together effectively. So we decided to create a company where we would bring quality hardware and software together to give our clients the best of everything, always paying attention to every detail. We knew that it was imperative to constantly be innovative so we could consistently offer our clients the latest and greatest.
In the process of providing outstanding service to our automated retail clients, we became aware of similar needs in the world of event marketing. Taking our well-honed best practices; hardware and software know-how; and commitment to the highest product and service quality, we looked at how we could help clients optimize their brand reach and loyalty. We consulted with some of the best in the experiential marketing industry and learned that brands want their activations to be fun and exciting while delivering the ROI that propels the company forward. That information, in the hands of our existing passionate, knowledgeable, and dedicated team led us to the creation of our experiential marketing division. Our creative team designed and constructed all-in-one communication Stations, built around our already state-of-the-art vending machines and custom software. We developed a suite of ancillary products and services to complement the Stations. We trained Optimizers to use these Stations as tools to attract and engage attendees, while gathering vital data which we then deliver post-event, providing the client with all the metrics and analytics they could possibly need to make good business decisions, sales funnels, etc.
At the core of it all, Optimal Station strives to do more, be more, care more. All the while we want to grow, help others grow, give back, and have fun!
"We knew that it was imperative to constantly be innovative so we could consistently offer our clients the latest and greatest."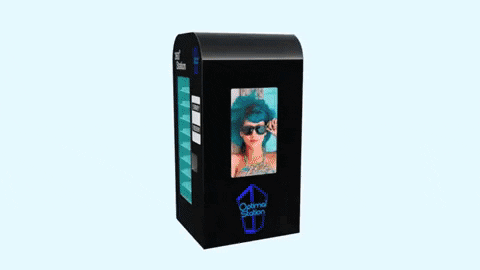 Meet The Optimal Team Members
Reach • Engage • Experience • Connect
Vision
"Together We're Better" - Optimal Station
By encouraging innovation and creativity, we help businesses grow and reach their Optimal potential. We find the resulting growth of our employees and clients to be so rewarding that, in turn, we're motivated to become even more innovative and creative, producing even more growth. We see it as a self-perpetuating cycle.
Mission
"Together We're Better" - Optimal Station
To help entrepreneurs, businesses, and brands be successful by providing innovative custom solutions backed by optimal customer service and support. Yes, Optimal Station's products are the best in the industry, because we source and supply only the best. But our service is what truly sets us apart from the rest and is the cornerstone of our business plan.
Values
"Together We're Better" - Optimal Station
First and foremost, Optimal Station values integrity. Other qualities of paramount importance to our corporate culture are fairness, balance, empowerment of individuals, exceeding expectations, innovation, constant improvement, creativity, fun, and philanthropy.
Position Statement
"Together We're Better" - Optimal Station
Our company has the primary goal of providing customized quality vending machines to the automatic retail and inventing creative marketing experiences centered around our Stations. We have distinctive solutions for businesses to improve profit margins, increase brand awareness, attract new customers and build loyalty with existing customers. What makes Optimal Station unique is its ability to seamlessly collect data in a way that's fun and exciting for consumers.
Brands We've Been Optimal With
Optimal Station, an experiential technology and service provider, offers advanced tools, systems, processes, and service to help marketers most effectively execute a unique and customized activation that makes it FUN and REWARDING to engage and provide VERIFIED metrics so that brands can maximize their marketing dollar.
A blog about what to consider before starting your own business.
We wanted to thank Design Pickle for writing this amazing...